Welcome to the official website of the European High Pressure Research Group (EHPRG).
EHPRG is non-profitable academic association established in 1963 which is devoted to science and technology of matter under high pressure. It organizes an annual meeting which brings together hundreds of scientists of various fields, mainly physics, chemistry, Earth and planetary sciences, bio- and food science and technology.
The reasonable size of the group, low conference fees, and a friendly relationship between the attendants have made EHPRG meetings a major event in the European high-pressure community for more than half a century.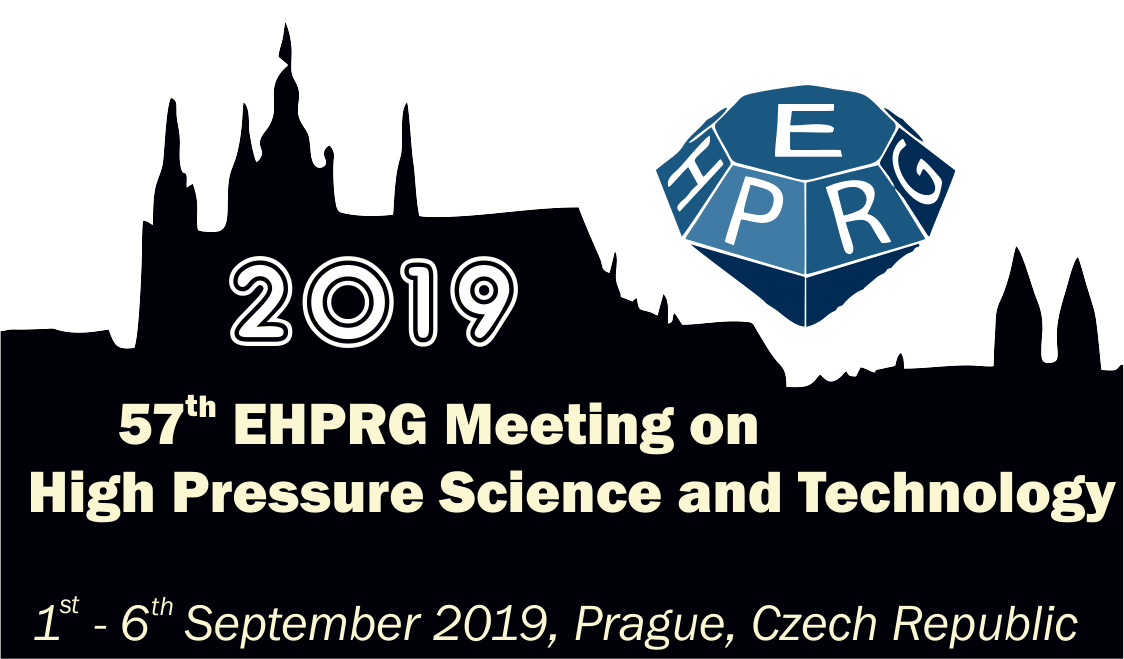 The 57th European High Pressure Research Group Meeting on High Pressure Science and Technology (EHPRG-2019) will be held in Prague, Czech Republic, from 1st to 6th September 2019. The 57th EHPRG Meeting will be chaired by Jiří Prchal (Charles University, Prague, Czech Republic).
For more information, please visit the official webpage of the 57th EHPRG Meeting.
Selection of high-pressure related titles from top scientific journals.
Adaptive mutability of colorectal cancers in response to targeted therapies
by Russo, M., Crisafulli, G., Sogari, A., Reilly, N. M., Arena, S., Lamba, S., Bartolini, A., Amodio, V., Magri, A., Novara, L., Sarotto, I., Nagel, Z. D., Piett, C. G., Amatu, A., Sartore-Bianchi, A., Siena, S., Bertotti, A., Trusolino, L., Corigliano, M., Gherardi, M., Lagomarsino, M. C., Di Nicolantonio, F., Bardelli, A.


The emergence of drug resistance limits the efficacy of targeted therapies in human tumors. The prevalent view is that resistance is a fait accompli: when treatment is initiated, cancers already contain drug-resistant mutant cells. Bacteria exposed to antibiotics transiently increase their mutation rates (adaptive mutability), thus improving the likelihood of survival. We investigated whether human colorectal cancer (CRC) cells likewise exploit adaptive mutability to evade therapeutic pressure. We found that epidermal growth factor receptor (EGFR)/BRAF inhibition down-regulates mismatch repair (MMR) and homologous recombination (HR) DNA repair genes, and concomitantly up-regulates error-prone polymerases in drug-tolerant (persister) cells. MMR proteins were also down-regulated in patient-derived xenografts and tumor specimens during therapy. EGFR/BRAF inhibition induced DNA damage, increased mutability and triggered microsatellite instability. Thus, like unicellular organisms, tumor cells evade therapeutic pressures by enhancing mutability.


7 Nov 2019 at 7:48pm
Graduate students under pressure
by McCartney, M.
5 Dec 2019 at 7:41pm
Magma reservoir failure and the onset of caldera collapse at Kilauea Volcano in 2018
by Anderson, K. R., Johanson, I. A., Patrick, M. R., Gu, M., Segall, P., Poland, M. P., Montgomery-Brown, E. K., Miklius, A.


Caldera-forming eruptions are among Earth's most hazardous natural phenomena, yet the architecture of subcaldera magma reservoirs and the conditions that trigger collapse are poorly understood. Observations from the formation of a 0.8–cubic kilometer basaltic caldera at Kīlauea Volcano in 2018 included the draining of an active lava lake, which provided a window into pressure decrease in the reservoir. We show that failure began after <4% of magma was withdrawn from a shallow reservoir beneath the volcano's summit, reducing its internal pressure by ~17 megapascals. Several cubic kilometers of magma were stored in the reservoir, and only a fraction was withdrawn before the end of the eruption. Thus, caldera formation may begin after withdrawal of only small amounts of magma and may end before source reservoirs are completely evacuated.


5 Dec 2019 at 7:41pm
Cyclic lava effusion during the 2018 eruption of Kilauea Volcano
by Patrick, M. R., Dietterich, H. R., Lyons, J. J., Diefenbach, A. K., Parcheta, C., Anderson, K. R., Namiki, A., Sumita, I., Shiro, B., Kauahikaua, J. P.


Lava flows present a recurring threat to communities on active volcanoes, and volumetric eruption rate is one of the primary factors controlling flow behavior and hazard. The time scales and driving forces of eruption rate variability, however, remain poorly understood. In 2018, a highly destructive eruption occurred on the lower flank of Kīlauea Volcano, Hawai'i, where the primary vent exhibited substantial cyclic eruption rates on both short (minutes) and long (tens of hours) time scales. We used multiparameter data to show that the short cycles were driven by shallow outgassing, whereas longer cycles were pressure-driven surges in magma supply triggered by summit caldera collapse events 40 kilometers upslope. The results provide a clear link between eruption rate fluctuations and their driving processes in the magmatic system.


5 Dec 2019 at 7:41pm
Magnesium oxide at extreme temperatures and pressures studied with first-principles simulations
by François Soubiran
The Journal of Chemical Physics, Volume 151, Issue 21, December 2019.
We combine two first-principles computer simulation techniques, path integral Monte Carlo and density functional theory molecular dynamics, to determine the equation of state of magnesium oxide in the regime of warm dense matter, with densities ranging from 0.35 to 71 g cm−3 and temperatures ranging from 10 000 K to 5 × 108 K. These conditions are relevant for the interiors of giant planets and stars as well as for shock wave compression measurements and inertial confinement fusion experiments. We study the electronic structure of MgO and the ionization mechanisms as a function of density and temperature. We show that the L-shell orbitals of magnesium and oxygen hybridize at high density. This results in a gradual ionization of the L-shell with increasing density and temperature. In this regard, MgO behaves differently from pure oxygen, which is reflected in the shape of the MgO principal shock Hugoniot curve. The curve of oxygen shows two compression maxima, while that of MgO shows only one. We predict a maximum compression ratio of 4.66 to occur for a temperature of 6.73 × 107 K. Finally, we study how multiple shocks and ramp waves can be used to cover a large range of densities and temperatures.
7 Dec 2019 at 9:00am
Oxygen Quadclusters in ${\mathrm{SiO}}_{2}$ Glass above Megabar Pressures up to 160 GPa Revealed by X-Ray Raman Scattering
by Sung Keun Lee, Yong-Hyun Kim, Yoo Soo Yi, Paul Chow, Yuming Xiao, Cheng Ji, and Guoyin Shen
Author(s): Sung Keun Lee, Yong-Hyun Kim, Yoo Soo Yi, Paul Chow, Yuming Xiao, Cheng Ji, and Guoyin Shen


X-ray Raman scattering reveals the structure of matter at extreme pressures, and so could be a useful tool for the study of planetary interiors.


[Phys. Rev. Lett. 123, 235701] Published Thu Dec 05, 2019
5 Dec 2019 at 11:00am
Scaling Relations in Elastic Turbulence
by Victor Steinberg
Author(s): Victor Steinberg


We report the scaling relations between the exponents of the power-law decays of kinetic and elastic energies, pressure, as well as torque fluctuations in elastic turbulence (ET). The relations are derived by estimating that the divergent part of the elastic stress is much larger than its vortical p...


[Phys. Rev. Lett. 123, 234501] Published Wed Dec 04, 2019
4 Dec 2019 at 11:00am
Critical Phenomena in the Temperature-Pressure-Crowding Phase Diagram of a Protein
by Andrei G. Gasic, Mayank M. Boob, Maxim B. Prigozhin, Dirar Homouz, Caleb M. Daugherty, Martin Gruebele, and Margaret S. Cheung
Author(s): Andrei G. Gasic, Mayank M. Boob, Maxim B. Prigozhin, Dirar Homouz, Caleb M. Daugherty, Martin Gruebele, and Margaret S. Cheung


Proteins balance contradictory demands of folding tightly yet remaining flexible by tuning where they operate in a temperature-pressure-crowding phase diagram.


[Phys. Rev. X 9, 041035] Published Mon Nov 18, 2019
18 Nov 2019 at 11:00am
Pressure-Induced Hydrogen-Hydrogen Interaction in Metallic FeH Revealed by NMR
by Thomas Meier, Florian Trybel, Saiana Khandarkhaeva, Gerd Steinle-Neumann, Stella Chariton, Timofey Fedotenko, Sylvain Petitgirard, Michael Hanfland, Konstantin Glazyrin, Natalia Dubrovinskaia, and Leonid Dubrovinsky
Author(s): Thomas Meier, Florian Trybel, Saiana Khandarkhaeva, Gerd Steinle-Neumann, Stella Chariton, Timofey Fedotenko, Sylvain Petitgirard, Michael Hanfland, Konstantin Glazyrin, Natalia Dubrovinskaia, and Leonid Dubrovinsky


Nuclear magnetic resonance experiments reveal how the electronic properties of hydrogen in iron hydride change under extreme pressure, a step toward understanding the onset of high-temperature superconductivity in metal hydrides.


[Phys. Rev. X 9, 031008] Published Wed Jul 17, 2019
17 Jul 2019 at 12:00pm
Solids, liquids, and gases under high pressure
by Ho-Kwang Mao, Xiao-Jia Chen, Yang Ding, Bing Li, and Lin Wang
Author(s): Ho-Kwang Mao, Xiao-Jia Chen, Yang Ding, Bing Li, and Lin Wang


The effect of adding high pressure as a control parameter in solids, liquids, and gases expands opportunities to observe unexpected novel phenomena and understand matter in extreme environments. This review on high pressure science highlights subjects ranging from quantum criticality to Earth science. State-of-the-art experimental methods at megabar pressures are also discussed. The proliferation of pressure-induced phases illustrate promising new directions for this field of research.


[Rev. Mod. Phys. 90, 015007] Published Tue Mar 20, 2018
20 Mar 2018 at 11:00am
Colloquium: High pressure and road to room temperature superconductivity
by Lev P. Gor'kov and Vladimir Z. Kresin
Author(s): Lev P. Gor'kov and Vladimir Z. Kresin


Even after three decades of development, high-temperature superconductivity remains one of the most challenging theoretical and experimental areas in condensed matter physics. In this Colloquium some new discoveries in this area are reviewed and possible routes toward much higher transition temperatures are analyzed.


[Rev. Mod. Phys. 90, 011001] Published Tue Jan 09, 2018
9 Jan 2018 at 11:00am
Effect of chemical and hydrostatic pressure on the coupled magnetostructural transition of Ni-Mn-In Heusler alloys
by P. Devi, C. Salazar Mejía, L. Caron, Sanjay Singh, M. Nicklas, and C. Felser
Author(s): P. Devi, C. Salazar Mejía, L. Caron, Sanjay Singh, M. Nicklas, and C. Felser


Ni-Mn-In magnetic shape-memory Heusler alloys exhibit generally a large thermal hysteresis at their first-order martensitic phase transition which hinders a technological application in magnetic refrigeration. By optimizing the Cu content in ${\mathrm{Ni}}_{2}{\mathrm{Cu}}_{x}{\mathrm{Mn}}_{1.4−x}{\...


[Phys. Rev. Materials 3, 122401(R)] Published Tue Dec 10, 2019
10 Dec 2019 at 11:00am
Ab initio exploration of post-PPV transitions in low-pressure analogs of ${\mathrm{MgSiO}}_{3}$
by Koichiro Umemoto and Renata M. Wentzcovitch
Author(s): Koichiro Umemoto and Renata M. Wentzcovitch


Here, we present an ab initio investigation of the pressure-induced behavior of ${\mathrm{MgGeO}}_{3}$ and ${\mathrm{NaMgF}}_{3}$ perovskite (PV), traditional low-pressure analogs (LPAs) of ${\mathrm{MgSiO}}_{3}$ PV. The latter is an exceedingly important system in planetary sciences displaying nove...


[Phys. Rev. Materials 3, 123601] Published Tue Dec 03, 2019
3 Dec 2019 at 11:00am
Solubility of deuterium and hydrogen in fcc iron at high pressures and temperatures
by Vladimir E. Antonov, Vladislav M. Gurev, Valery I. Kulakov, Mikhail A. Kuzovnikov, Ilia A. Sholin, and Victoria Y. Zuykova
Author(s): Vladimir E. Antonov, Vladislav M. Gurev, Valery I. Kulakov, Mikhail A. Kuzovnikov, Ilia A. Sholin, and Victoria Y. Zuykova


An isobar $x(T)$ of deuterium solubility in iron is constructed at $P=6.3\phantom{\rule{0.16em}{0ex}}\mathrm{GPa}$ and $100≤T≤800{\phantom{\rule{0.16em}{0ex}}}^{∘}\mathrm{C}$ based on the results of thermal desorption analysis of $\mathrm{Fe}{\mathrm{D}}_{x}$ samples produced by quenching under high...


[Phys. Rev. Materials 3, 113604] Published Mon Nov 18, 2019
18 Nov 2019 at 11:00am
Superconductivity in tin selenide under pressure
by Giovanni Marini, Paolo Barone, Antonio Sanna, Cesare Tresca, Lara Benfatto, and Gianni Profeta
Author(s): Giovanni Marini, Paolo Barone, Antonio Sanna, Cesare Tresca, Lara Benfatto, and Gianni Profeta


Tin selenide is a layered material that captured the interest of the scientific community for its stunning thermoelectric properties and fascinating phase transitions under pressure. Recently, an experimental study revealed the existence of a topological and superconducting phase in its pressure-sta...


[Phys. Rev. Materials 3, 114803] Published Thu Nov 14, 2019
14 Nov 2019 at 11:00am
Structure of liquid ammonia at high pressures and temperatures
by Jean-Antoine Queyroux, Sandra Ninet, Gunnar Weck, Gaston Garbarino, Mohamed Mezouar, and Frédéric Datchi
Author(s): Jean-Antoine Queyroux, Sandra Ninet, Gunnar Weck, Gaston Garbarino, Mohamed Mezouar, and Frédéric Datchi


The structure of liquid ammonia (${\mathrm{NH}}_{3}$) is investigated from 1 to 6.3 GPa and up to 800 K by means of synchrotron x-ray diffraction (XRD) and ab initio molecular dynamics (AIMD) simulations. The XRD data are used to extract the molecular structure factor ${S}_{\mathrm{mol}}(Q)$, pair d...


[Phys. Rev. B 100, 224104] Published Fri Dec 06, 2019
6 Dec 2019 at 11:00am
Resistivity, Seebeck coefficient, and thermal conductivity of platinum at high pressure and temperature
by Hitoshi Gomi (五味斎) and Takashi Yoshino (芳野極)
Author(s): Hitoshi Gomi (五味斎) and Takashi Yoshino (芳野極)


Platinum (Pt) is one of the most widely used functional materials for high-pressure and high-temperature experiments. Despite the crucial importance of its transport properties, both experimental and theoretical studies are very limited. In this study, we conducted density functional theory calculat...


[Phys. Rev. B 100, 214302] Published Thu Dec 05, 2019
5 Dec 2019 at 11:00am
Pressure-induced polymorphism in ${\mathrm{SrB}}_{6}$ and deformation mechanisms of covalent networks
by Li Zhu, Gustav M. Borstad, R. E. Cohen, and Timothy A. Strobel
Author(s): Li Zhu, Gustav M. Borstad, R. E. Cohen, and Timothy A. Strobel


We study the high-pressure structures of ${\mathrm{SrB}}_{6}$ up to 200 GPa using first-principles structure prediction calculations and high-pressure x-ray diffraction experiments. The computations show that the ambient-pressure cubic phase transforms to an orthorhombic structure $(Cmmm)$ at 48 GPa...


[Phys. Rev. B 100, 214102] Published Wed Dec 04, 2019
4 Dec 2019 at 11:00am
Density of amorphous $\mathrm{Ge}{\mathrm{O}}_{2}$ to 133 GPa with possible pyritelike structure and stiffness at high pressure
by Sylvain Petitgirard, Georg Spiekermann, Konstantin Glazyrin, Jan Garrevoet, and Motohiko Murakami
Author(s): Sylvain Petitgirard, Georg Spiekermann, Konstantin Glazyrin, Jan Garrevoet, and Motohiko Murakami


Germanium oxide is a prototype network-forming oxide with pressure-induced structural changes similar to those found in crystals and amorphous silicate oxides at high pressure. Studying density and coordination changes in amorphous $\mathrm{Ge}{\mathrm{O}}_{2}$ allows for insight into structural cha...


[Phys. Rev. B 100, 214104] Published Wed Dec 04, 2019
4 Dec 2019 at 11:00am
Development of a technique for high pressure neutron diffraction at 40 GPa with a Paris-Edinburgh press
by T. Hattori
Volume 39, Issue 3, September 2019, Page 417-425
.

4 Jun 2019 at 6:21am
Modified Bridgman anvils for high pressure synthesis and neutron scattering
by Bianca Haberl
Volume 39, Issue 3, September 2019, Page 426-437
.

17 Jun 2019 at 8:18am
Ultrahigh pressure equation of state of tantalum to 310 GPa
by Kaleb C. Burrage
Volume 39, Issue 3, September 2019, Page 489-498
.

11 Jul 2019 at 8:28am
In-situ X-ray diffraction study on β-CrOOH at high pressure and high-temperature
by Chikara Shito
Volume 39, Issue 3, September 2019, Page 499-508
.

17 Jul 2019 at 2:46pm
Effects of high hydrostatic pressure on β-glucan content, swelling power, starch damage, and pasting properties of high-β-glucan barley flour
by Shigeaki Ueno
Volume 39, Issue 3, September 2019, Page 509-524
.

29 Mar 2019 at 1:58pm
The usage of high hydrostatic pressure (HHP) to control food-borne pathogens in hummus
by Barbara Sokołowska
Volume 39, Issue 3, September 2019, Page 525-532
.

24 Jun 2019 at 12:09pm
Parallel background subtraction in diamond anvil cells for high pressure X-ray data analysis
by Weizhao Cai
.

6 Dec 2019 at 3:40am
Data-driven exploration for pressure-induced superconductors using diamond anvil cell with boron-doped diamond electrodes and undoped diamond insulating layer
by Ryo Matsumoto
.

3 Dec 2019 at 2:04am
High pressure atomic structure of Zr–Cu metallic glass via EXAFS spectroscopy and molecular dynamics simulations
by P. Dziegielewski
.

27 Nov 2019 at 11:46am
TiSi2-SiC agglomerates toughened TiC composites prepared by in-situ reaction under high pressure
by Qingyun Chen
.

19 Nov 2019 at 7:45am
High-temperature electrical resistivity measurements of hcp iron to Mbar pressure in an internally resistive heated diamond anvil cell
by Sho Suehiro
.

18 Nov 2019 at 10:28am
High pressure generation in the Kawai-type multianvil apparatus equipped with sintered diamond anvils
by D. Yamazaki
.

15 Nov 2019 at 5:19am
High pressure influence on the Diels–Alder reaction volume in the solid phase at pressure up to 7000 bar and in solution
by Dmitry A. Kornilov
.

8 Oct 2019 at 10:58am
The application of manganin wire pressure gauges in a large volume press under high-temperature conditions
by Ren Dongsheng
.

8 Oct 2019 at 10:58am
Hydrostaticity of pressure-transmitting media for high pressure infrared spectroscopy
by A. Celeste
.

20 Sep 2019 at 11:59am
Enhancing the pressure limitation in large-volume Bridgman-anvil cell used for in situ neutron diffraction
by Qiwei Hu
.

19 Sep 2019 at 1:28pm
High hydrostatic pressure processing of beetroot juice: effects on nutritional, sensory and microbiological quality
by Marta Ubeira-Iglesias
.

19 Sep 2019 at 1:24pm
Lattice distortion-induced sluggish phase transition in CoCrFeNixAl1-x (x = 0.5, 0.75) high-entropy alloys at high pressures
by Lei Liu
.

16 Aug 2019 at 12:07pm