Welcome to the official website of the European High Pressure Research Group (EHPRG).
EHPRG is non-profitable academic association established in 1963 which is devoted to science and technology of matter under high pressure. It organizes an annual meeting which brings together hundreds of scientists of various fields, mainly physics, chemistry, Earth and planetary sciences, bio- and food science and technology.
The reasonable size of the group, low conference fees, and a friendly relationship between the attendants have made EHPRG meetings a major event in the European high-pressure community for more than half a century.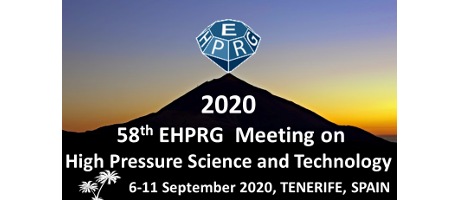 The 58th European High Pressure Research Group Meeting on High Pressure Science and Technology (EHPRG-2020) will be held in Tenerife, Spain, from 6th to 11th September 2020. The 58th EHPRG Meeting will be chaired by Alfonso Muñoz Gonzalez (Universidad de La Laguna, Tenerife, Spain).
For more information, please visit the official webpage of the 58th EHPRG Meeting.
Selection of high-pressure related titles from top scientific journals.
Singing in a silent spring: Birds respond to a half-century soundscape reversion during the COVID-19 shutdown
by Derryberry, E. P., Phillips, J. N., Derryberry, G. E., Blum, M. J., Luther, D.


Actions taken to control the coronavirus disease 2019 (COVID-19) pandemic have conspicuously reduced motor vehicle traffic, potentially alleviating auditory pressures on animals that rely on sound for survival and reproduction. Here, by comparing soundscapes and songs across the San Francisco Bay Area before and during the recent statewide shutdown, we evaluated whether a common songbird responsively exploited newly emptied acoustic space. We show that noise levels in urban areas were substantially lower during the shutdown, characteristic of traffic in the mid-1950s. We also show that birds responded by producing higher performance songs at lower amplitudes, effectively maximizing communication distance and salience. These findings illustrate that behavioral traits can change rapidly in response to newly favorable conditions, indicating an inherent resilience to long-standing anthropogenic pressures such as noise pollution.


29 Oct 2020 at 6:38pm
Physical traits of cancer
by Nia, H. T., Munn, L. L., Jain, R. K.


The role of the physical microenvironment in tumor development, progression, metastasis, and treatment is gaining appreciation. The emerging multidisciplinary field of the physical sciences of cancer is now embraced by engineers, physicists, cell biologists, developmental biologists, tumor biologists, and oncologists attempting to understand how physical parameters and processes affect cancer progression and treatment. Discoveries in this field are starting to be translated into new therapeutic strategies for cancer. In this Review, we propose four physical traits of tumors that contribute to tumor progression and treatment resistance: (i) elevated solid stresses (compression and tension), (ii) elevated interstitial fluid pressure, (iii) altered material properties (for example, increased tissue stiffness, which historically has been used to detect cancer by palpation), and (iv) altered physical microarchitecture. After defining these physical traits, we discuss their causes, consequences, and how they complement the biological hallmarks of cancer.


29 Oct 2020 at 6:38pm
Measuring pressure in equilibrium and nonequilibrium lattice-gas models
by Mauro Sellitto
The Journal of Chemical Physics, Volume 153, Issue 16, October 2020.
We develop an algorithm based on the method proposed by Dickman for directly measuring pressure in lattice-gas models. The algorithm gives the possibility to access the equation of state with a single run by adding multiple ghost sites to the original system. This feature considerably improves calculations and makes the algorithm particularly efficient for systems with inhomogeneous density profiles, both in equilibrium and nonequilibrium steady states. We illustrate its broad applicability by considering some paradigmatic systems of statistical mechanics such as the lattice gas under gravity, nearest-neighbor exclusion models in finite dimension and on regular random graphs, and the boundary-driven simple symmetric exclusion process.
23 Oct 2020 at 3:15am
Homogeneous water nucleation: Experimental study on pressure and carrier gas effects
by M. M. Campagna
The Journal of Chemical Physics, Volume 153, Issue 16, October 2020.
Homogeneous nucleation of water is investigated in argon and in nitrogen at about 240 K and 0.1 MPa, 1 MPa, and 2 MPa by means of a pulse expansion wave tube. The surface tension reduction at high pressure qualitatively explains the observed enhancement of the nucleation rate of water in argon as well as in nitrogen. The differences in nucleation rates for the two mixtures at high pressure are consistent with the differences in adsorption behavior of the different carrier gas molecules. At low pressure, there is not enough carrier gas available to ensure the growing clusters are adequately thermalized by collisions with carrier gas molecules so that the nucleation rate is lower than under isothermal conditions. This reduction depends on the carrier gas, pressure, and temperature. A qualitative agreement between experiments and theory is found for argon and nitrogen as carrier gases. As expected, the reduction in the nucleation rates is more pronounced at higher temperatures. For helium as the carrier gas, non-isothermal effects appear to be substantially stronger than predicted by theory. The critical cluster sizes are determined experimentally and theoretically according to the Gibbs–Thomson equation, showing a reasonable agreement as documented in the literature. Finally, we propose an empirical correction of the classical nucleation theory for the nucleation rate calculation. The empirical expression is in agreement with the experimental data for the analyzed mixtures (water–helium, water–argon, and water–nitrogen) and thermodynamic conditions (0.06 MPa–2 MPa and 220 K–260 K).
22 Oct 2020 at 12:21pm
Coexistence of Superconductivity and Charge Density Waves in Tantalum Disulfide: Experiment and Theory
by Y. Kvashnin, D. VanGennep, M. Mito, S. A. Medvedev, R. Thiyagarajan, O. Karis, A. N. Vasiliev, O. Eriksson, and M. Abdel-Hafiez
Author(s): Y. Kvashnin, D. VanGennep, M. Mito, S. A. Medvedev, R. Thiyagarajan, O. Karis, A. N. Vasiliev, O. Eriksson, and M. Abdel-Hafiez


The coexistence of charge density wave (CDW) and superconductivity in tantalum disulfide ($2\mathrm{H}\text{−}{\mathrm{TaS}}_{2}$) at low temperature is boosted by applying hydrostatic pressures to study both vibrational and magnetic transport properties. Around ${P}_{c}$, we observe a superconducti...


[Phys. Rev. Lett. 125, 186401] Published Tue Oct 27, 2020
27 Oct 2020 at 11:00am
Unconventional Superconductivity Induced by Suppressing an Iron-Selenium-Based Mott Insulator ${\mathrm{CsFe}}_{4−x}{\mathrm{Se}}_{4}$
by Jin Si, Guan-Yu Chen, Qing Li, Xiyu Zhu, Huan Yang, and Hai-Hu Wen
Author(s): Jin Si, Guan-Yu Chen, Qing Li, Xiyu Zhu, Huan Yang, and Hai-Hu Wen


Under high pressure, the insulating compound CsFe4−xSe4 turns into an unconventional superconductor, suggesting this system is a good one for exploring deviations from traditional Bardeen-Cooper-Schrieffer theory of superconductivity.


[Phys. Rev. X 10, 041008] Published Mon Oct 12, 2020
12 Oct 2020 at 12:00pm
Pressure induced Lifshitz transition in ThFeAsN
by Smritijit Sen and Guang-Yu Guo
Author(s): Smritijit Sen and Guang-Yu Guo


In this paper, we present pressure dependent structural parameters and electronic structure of the ThFeAsN superconductor. There are no anomalies in the structural parameters as well as elastic constants with hydrostatic pressure which is consistent with the experiments. We study the electronic stru...


[Phys. Rev. Materials 4, 104802] Published Tue Oct 27, 2020
27 Oct 2020 at 11:00am
Recoverable high-energy compounds by reacting methane and nitrogen under high pressure
by Feng Peng, Yanming Ma, Andreas Hermann, and Maosheng Miao
Author(s): Feng Peng, Yanming Ma, Andreas Hermann, and Maosheng Miao


The search for the stable polymeric forms of solid nitrogen is of great importance in view of its potential application as a high-energy-density material. Using first-principles calculations combined with an effective crystal structure search method, we demonstrate that nitrogen can react with metha...


[Phys. Rev. Materials 4, 103610] Published Thu Oct 22, 2020
22 Oct 2020 at 12:00pm
Coupling of organic cation and inorganic lattice in methylammonium lead halide perovskites: Insights into a pressure-induced isostructural phase transition
by Sorb Yesudhas, Randy Burns, Barbara Lavina, Sergey N. Tkachev, Jiuyu Sun, Carsten A. Ullrich, and Suchismita Guha
Author(s): Sorb Yesudhas, Randy Burns, Barbara Lavina, Sergey N. Tkachev, Jiuyu Sun, Carsten A. Ullrich, and Suchismita Guha


Organic-inorganic hybrid metal-halide perovskite (OIHP) materials provide a tunable platform for engineering their optoelectronic properties. Although several high-pressure studies have been conducted from the OIHP family of single crystals and films, the exact nature of the dynamic coupling of the ...


[Phys. Rev. Materials 4, 105403] Published Fri Oct 16, 2020
16 Oct 2020 at 12:00pm
Decoration of growth sector boundaries with nitrogen vacancy centers in as-grown single crystal high-pressure high-temperature synthetic diamond
by P. L. Diggle, U. F. S. D'Haenens-Johansson, B. L. Green, C. M. Welbourn, Thu Nhi Tran Thi, A. Katrusha, W. Wang, and M. E. Newton
Author(s): P. L. Diggle, U. F. S. D'Haenens-Johansson, B. L. Green, C. M. Welbourn, Thu Nhi Tran Thi, A. Katrusha, W. Wang, and M. E. Newton


Large $(>100\phantom{\rule{0.16em}{0ex}}\mathrm{m}{\mathrm{m}}^{3})$, relatively pure (type II) and low birefringence single crystal diamond can be produced by high pressure high temperature (HPHT) synthesis. In this study we examine a HPHT sample of good crystalline perfection, containing less t...


[Phys. Rev. Materials 4, 093402] Published Wed Sep 30, 2020
30 Sep 2020 at 12:00pm
Exotic silicon phases synthesized through ultrashort laser-induced microexplosion: Characterization with Raman microspectroscopy
by L. A. Smillie, M. Niihori, L. Rapp, B. Haberl, J. S. Williams, J. E. Bradby, C. J. Pickard, and A. V. Rode
Author(s): L. A. Smillie, M. Niihori, L. Rapp, B. Haberl, J. S. Williams, J. E. Bradby, C. J. Pickard, and A. V. Rode


Exotic metastable phases of silicon formed under high pressure are expected to have attractive semiconducting properties including narrow band gaps that open up novel technological applications. Confined microexplosions induced by powerful ultrashort laser pulses have been demonstrated as an advance...


[Phys. Rev. Materials 4, 093803] Published Wed Sep 30, 2020
30 Sep 2020 at 12:00pm
Two good metals make a semiconductor: A potassium-nickel compound under pressure
by Adebayo A. Adeleke, Elissaios Stavrou, Adebayo O. Adeniyi, Biao Wan, Huiyang Gou, and Yansun Yao
Author(s): Adebayo A. Adeleke, Elissaios Stavrou, Adebayo O. Adeniyi, Biao Wan, Huiyang Gou, and Yansun Yao


We predict a potassium-nickel intermetallic compound ${\mathrm{K}}_{2}\mathrm{Ni}$ at high pressure and identify it as the long-sought structure of the only known K-Ni compound to date [Parker et al., Science 273, 95 (1996)]. Although both constituent elements are metallic, ${\mathrm{K}}_{2}\mathrm...


[Phys. Rev. B 102, 134120] Published Thu Oct 29, 2020
29 Oct 2020 at 11:00am
Pressure tuning of superconductivity in ${\mathrm{Mo}}_{8}{\mathrm{Ga}}_{41}$ single crystals
by Ying Zhou, Yonghui Zhou, Chunhua Chen, Xuliang Chen, Chao An, Lili Zhang, Wenbin Wu, Zhitao Zhang, and Zhaorong Yang
Author(s): Ying Zhou, Yonghui Zhou, Chunhua Chen, Xuliang Chen, Chao An, Lili Zhang, Wenbin Wu, Zhitao Zhang, and Zhaorong Yang


We report on pressure tuning of superconductivity in a strongly coupled superconductor ${\mathrm{Mo}}_{8}{\mathrm{Ga}}_{41}$ with a critical temperature ${T}_{c}∼9.8\phantom{\rule{0.16em}{0ex}}\mathrm{K}$. Resistance measurements show that ${T}_{c}$ is suppressed to 3.6 K at 19 GPa followed by a non...


[Phys. Rev. B 102, 134512] Published Wed Oct 28, 2020
28 Oct 2020 at 11:00am
Pressure-induced superconductivity and structural transition in ferromagnetic ${\mathrm{CrSiTe}}_{3}$
by Wanping Cai, Hualei Sun, Wei Xia, Changwei Wu, Ying Liu, Hui Liu, Yu Gong, Dao-Xin Yao, Yanfeng Guo, and Meng Wang
Author(s): Wanping Cai, Hualei Sun, Wei Xia, Changwei Wu, Ying Liu, Hui Liu, Yu Gong, Dao-Xin Yao, Yanfeng Guo, and Meng Wang


Layered structural materials have been a fertile playground to investigate mechanisms of fundamental physics and explore potential applications. Here, we report investigations on ferromagnetic van der Waals $\mathrm{Cr}\mathrm{Si}{\mathrm{Te}}_{3}$ via high-pressure synchrotron x-ray diffraction, el...


[Phys. Rev. B 102, 144525] Published Wed Oct 28, 2020
28 Oct 2020 at 11:00am
Second group of high-pressure high-temperature lanthanide polyhydride superconductors
by Weiguo Sun, Xiaoyu Kuang, Harry D. J. Keen, Cheng Lu, and Andreas Hermann
Author(s): Weiguo Sun, Xiaoyu Kuang, Harry D. J. Keen, Cheng Lu, and Andreas Hermann


Rare-earth polyhydrides formed under pressure are promising conventional superconductors, with the critical temperature ${T}_{c}$ in compressed ${\mathrm{LaH}}_{10}$ almost reaching room temperature. Here, we report a systematic computational investigation of the structural and superconducting prope...


[Phys. Rev. B 102, 144524] Published Tue Oct 27, 2020
27 Oct 2020 at 11:00am
Superconductivity and equation of state of lanthanum at megabar pressures
by Wuhao Chen, Dmitrii V. Semenok, Ivan A. Troyan, Anna G. Ivanova, Xiaoli Huang, Artem R. Oganov, and Tian Cui
Author(s): Wuhao Chen, Dmitrii V. Semenok, Ivan A. Troyan, Anna G. Ivanova, Xiaoli Huang, Artem R. Oganov, and Tian Cui


Lanthanum (La) is the first member of the lanthanoid that has recently raised considerable interest because of its unique La superhydride ${\mathrm{LaH}}_{10}$ and its own superconducting properties. There has been a lack of experimental evidence for the equation of state (EOS) and superconductivity...


[Phys. Rev. B 102, 134510] Published Mon Oct 26, 2020
26 Oct 2020 at 11:00am
Toward an international practical pressure scale: A proposal for an IPPS ruby gauge (IPPS-Ruby2020)
by Guoyin Shen
Volume 40, Issue 3, September 2020, Page 299-314
.

23 Jul 2020 at 3:58am
Practical effects of pressure-transmitting media on neutron diffraction experiments using Paris–Edinburgh presses
by T. Hattori
Volume 40, Issue 3, September 2020, Page 325-338
.

25 Jun 2020 at 1:13pm
Development of a high pressure stirring cell up to 2 GPa: a new window for chemical reactions and material synthesis
by Ying-Jui Hsu
Volume 40, Issue 3, September 2020, Page 358-368
.

5 Jun 2020 at 11:40am
Resistively heated, high pressure, membrane and screw driven diamond anvil cell
by Mario Santoro
Volume 40, Issue 3, September 2020, Page 379-391
.

7 Jul 2020 at 1:46pm
X-ray diffraction and Raman spectra of merrillite at high pressures
by Muhua Jia
Volume 40, Issue 3, September 2020, Page 411-422
.

29 Jul 2020 at 10:21am
Tantalum doping in HfO2: orthorhombic phase formation at ambient conditions and change in path of pressure-induced structural evolution
by S. Pathak
Volume 40, Issue 3, September 2020, Page 434-443
.

20 May 2020 at 2:29pm
Refrigerated shelf-life evaluation of high pressure processed, raw and sous vide cooked lobster
by Sami Humaid
Volume 40, Issue 3, September 2020, Page 444-463
.

16 Jun 2020 at 5:38am
Optimization of antioxidant activity and bioactive compounds extraction of winter savory leaves by high hydrostatic pressure
by Sílvia A. Moreira
.

22 Oct 2020 at 6:21am
Melting and decomposition of orthorhombic B6Si under high pressure
by Vladimir L. Solozhenko
.

15 Oct 2020 at 11:47am
Raman study of 3.65 Å-phase MgSi(OH)6 under high pressure and the bands assignment
by Ulyana Borodina
.

13 Oct 2020 at 7:43am
Challenging a range of high pressure processing parameters to inactivate pathogens in orange juice
by Rodrigo Rodrigues Petrus
.

13 Oct 2020 at 7:44am
Pressure media for high pressure experiments, Daphne Oil 7000 series
by D. Staško
.

28 Sep 2020 at 4:28am
Empirical constrains on volume changes in pressure-induced solid state transformations
by Oliver Tschauner
.

18 Sep 2020 at 4:53am
Elasticity of single-crystal NaCl under high-pressure: simultaneous measurement of x-ray inelastic scattering and diffraction
by Hiroshi Fukui
.

17 Aug 2020 at 11:39am